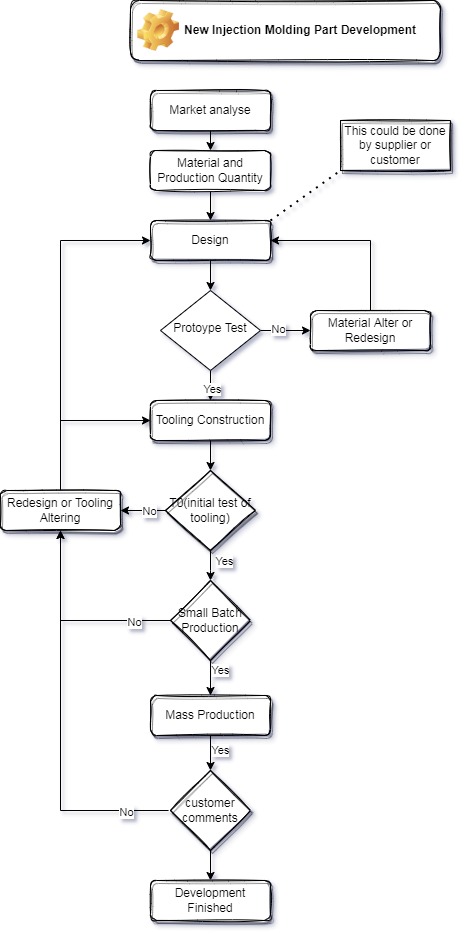 Step 1. Design of components (clients are welcome to supply 3D files)—-Client Side
The injection molding quote is crucial. It helps us visualize the things we'll make, decide on the best materials and techniques, and assess whether manufacturing is feasible.
Topworks will inspect the component designed by the client. We make modifications and submit the design back to the client for approval. Production will begin after the quote is agreed upon.
If we have any reservations about the project's viability, we'll contact you to discuss how to continue.
Clients pay nothing for this step. We can prepare your 3D files for injection molding.
Step 2. Parts Prototyping (if necessary)– Client Side Or Topworks side
The prototype is a crucial stage in the injection molding quote process. If you do not have an existing component, then you must build one before proceeding. Creating a prototype may be accomplished by 3D printing or CNC machining. This helps you understand how well your product will function and its manufacturing costs. If you already have a prototype, you may skip this step.
Step 3. Tool Design— Client Side Or Topworks side
At this phase, the Tooling Information Worksheet is used to develop the tool.
While developing a plastic mold, various things must be taken into account:
Mold Geometry – The geometry of your component will define the size and order of the molds you need to create.
Runner and Cavity Geometry – The runner geometry will assist define where pieces are assembled and how many parts can be generated each shot (per cycle).
Coolant Channels – Coolant channels around each cavity assist in rapidly cooling the molten plastic, preventing it from deforming upon ejection from the mold or warping during cooling. They also minimize shrinkage by allowing air bubbles to escape before to final solidification.
Ejector method – Ejector pins expel the component from the mold. Depending on your requirements and preferences, they may be either manual or automated.
Molds for injection are constructed from steel, aluminum, and other materials. Each material has unique properties that influence the production process. The purpose of tool check is to evaluate whether the design of the mold is correct and if it fits production standards. In addition, tool inspection helps discover and eradicate possible issues before they result in expensive production delays.
Mold flow analysis is a technique for assessing the distribution of molten plastic inside an injection mold and the influence of this distribution on the quality of the components produced by that mold. The length of time necessary for pieces to cool and solidify depends on their size, form, material thickness, and internal cooling passageways. This information is essential for determining how much time is required between shots to make components with a desirable look, sufficient strength, and precise dimensions.
Step 5.Tool Fabrication — Topworks side
The tool is precisely built utilizing Computer Numerical Control (CNC) and Electrical Discharge Machining (EDM) technologies in accordance with the verified design…
Surface Preparation
CNC Machining
EDM (Electrical Discharge Machining)
Engraving
Polishing
Inspection
Assembly
Step 6.First Shots To Client(T1) — Topworks side
When the injection molds are fabricated, the first test shots will be shipped by courier. After sent, these items typically arrive between two to five days.
The client reviews incoming items first. If a shot requires correction, the client sends it back to us along with their comments. We make the modifications and return the trial to the customer for approval. After the trial is accepted, it is finalized and sent back to the client for final approval.
Step 7.Tool Modifications and Texturing — Topworks side
At this point, Topworks makes any changes to the tool that is necessary to bring it into compliance with the approved specifications. Topworks makes any changes that are necessary (specifically excluding design changes, which are always charged for) free of charge.
In this stage, the texturing process is done, which is usually the last step before mass production.
Step 8.Mass Production Run or Export — Topworks side
In this stage, the tool is handed over to the customer or ready for export.
Timing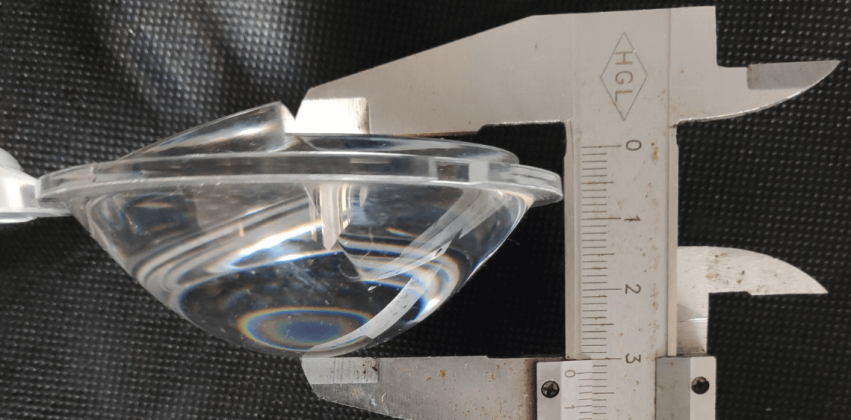 Tooling usually takes 5 to 6 weeks from receipt of deposit funds and assumes that the 3D files are correct.
It is possible to shorten the lead time if you have a special urgent request (additional fees apply).
"T1" samples are the first samples built based on your 3D files.
The test shot stage takes approximately one to two weeks to complete, depending on the original 3D design and the complexity of the plastic parts.
The lead time for production will vary depending on the complexity of the parts, the tooling, the materials, and the client's desired quantity.
Please let us know if you have a deadline.
We will discuss what can be done in order to meet your deadline. In general, we would require about two weeks to complete orders of 10,000 units.
Please do not hesitate to contact us with questions regarding the exact duration of your project, as times (and project scopes) vary greatly.
The time required for delivery depends on the manner in which the shipment will be handled. Examples include DHL, UPS, FedEx, TNT, air or sea shipment.
If you have assigned a freight forwarder, we can utilize your existing freight forwarding agreement for a nominal fee.
If there is no specific forwarder, we may be able to suggest forwarders that we have previously worked with.
Generally, our experience indicates that depending on the final destination, the shipment takes two to five days via international courier, two to five days by air, and twenty to forty-five days by sea.
Delivery FOB China is the simplest method, but international courier services would not be recommended due to their complexities. EMS is an alternate option for small quantities, however, if the delivery is urgent.
Additionally, customs declaration timetables vary by country.
Please contact your local freight forwarder for further information.
9 Tips To Make The Mold Buying Process Easier
There may be a lot of back-and-forth before a client and contract molder agrees on a product, making injection mold acquisition difficult. The following tips help speed up and simplify the process.
Create an RFQ that goes into a lot of details.As skilled as moldmakers are, they won't be able to read your mind when it comes to what you're looking for. Include as many specifics as you can at this stage, including the number of cavities, the steel, the desired lifespan of your mold, and any guarantees that you might need. If you aren't too sure on any of these topics, then tell your moldmaker, and they will be able to help you settle on what's right for your needs. The more accurate you make your RFQ, the more accurate a quote you will receive in return.
Let the moldmaker know why you need a quote. Without specifying the specifics, it can be difficult for them to provide an accurate quote. Creating a quote that is accurate can take time, and it's not fair to waste their time if you don't need that much detail, or if you might not buy from them.
Your moldmaker's ideas remain their intellectual property. You can't just take those suggestions and turn them into someone else's mold. If you settle on a different moldmaker, then agree to take their suggestions into account- which means using someone else's ideas isn't okay and could even confuse the final moldmaker.
Think about forming a partnership with yourmo ldmaker. Working close with your moldmaker will help you achieve better results in the long run. By setting budgets, timelines, and part quantity expectations collaboratively, you'll be able to work as a team and get the most out of your molding efforts.
Maintain open contact with your moldmaker throughout the duration of the procedure. Several moldmakers would gladly send progress updates and keep you abreast of the latest developments with your construction. It is essential that you know everything is moving according to plan, so if you have any questions, be sure to ask so you can relax.
Ensure you always make your payments on time. Always pay on time. Most moldmakers have restricted budgets and request upfront payment before starting your project. Payment delays will delay mold delivery. Discuss a payment arrangement with your moldmaker.
Changing your part design will likely mean changing the injection mold itself. So, changing your component design may require changing the injection mold. This may delay mold completion and increase expense. While making design modifications, keep this in mind to plan ahead and prevent unpleasant surprises.
Know in advance when your mold will be . When it comes to injection mold production, knowing the completion date is critical. Some consider it complete once the final payment is made, while others consider it done when the first sample part is produced or when the final product is shipped. But generally speaking, an injection mold is considered complete when it's ready to produce the desired part.
Moldmakers are usually willing to make minor changes towards the end of the process to ensure that the final product meets the print dimensions. However, if there are late changes to the dimensions, the mold may still be considered complete. In such cases, any additional changes will have to be paid for through an engineering change order (ECO), which could potentially impact the project's overall cost and timeline.
When it comes to cost, the old adage "you get what you pay for" often rings true. While some moldmakers may offer a discount while maintaining high quality standards, others may do so by cutting corners. It's important to be aware of the reasons behind the lower price tag, as a low cost may reflect poor quality or subpar materials. Ultimately, investing in a high-quality mold that meets your standards may be a wiser long-term decision than opting for a cheaper, potentially inferior option.
When buying an injection mold, that age-old adage is certainly true- you get what you pay for. Any molded components that you produce will only be as good as the mold that you used to make them, so you should ensure your injection mold is perfectly suited to your needs- before you buy it.