Topworks Injection Molding
China Injection Molding and mold manufacturer-Topworks
As a Chinese custom-made injection molding and plastic mold manufacturer, Topworks takes pride in offering our customers the best quality plastic molds and parts made using advanced tech.
With over a decade of experience, Topworks takes on each project with high levels of expertise and dedication. We provide you with a skilled, knowledgeable, and committed staff dedicated to your plastic injection molding needs.
Topworks can manufacture a complete item throughout our manufacturing process, or just parts of a system, regularly or on an ad-hoc basis, and offer custom assembling, stamping, and packaging services when needed and necessary.
All Topworks employees are skilled in their particular design, plastic mold building, and injection molding, making it possible for us to design, manufacture, and deliver your plastic molding requirements. Our services include prototyping to production to meet each project's requirements.
Injection molding overseas is not cost-effective for most companies. The high shipping costs and delivery delays by overseas customs make it inefficient, so make it locally?
Design of components (7 days)
Topworks can 
optimize your design
 for cost savings or ensure compatibility with Asian processes by optimizing your design before tooling.
Clients are welcome
to supply 3D files
Parts Prototyping (if necessary)(2 -3 days)
Topworks can utilize Computer Numerical Control (CNC) to produce a machined prototype or 3D printing that you can see and feel to validate the design of your part.
 Client Side
Or Topworks side
Tool Design(3-7 days)
During this stage, your Tooling Information Worksheet is used to design the tool.
Client Side Or
Topworks side
Tool Check and Mold Flow Analysis(1-2 days)
The accuracy of the tool design is validated.
Topworks side or client side
Tool Fabrication(3-8 weeks,it depends)
The tool is precisely fabricated according to the validated design using Computer Numerical Control (CNC), and Electrical Discharge Machining (EDM) technologies)…
First Shots To Client(T1,3-4 days)
The first test shots will be sent via courier soon after the injection molds are made. Once sent, these usually arrive in 2-5 days.
Tool Modifications and
Texturing (3-7 days,it depends)
At this point, Topworks makes any changes to the tool that is necessary to bring it into compliance with the approved specifications. Topworks makes any changes that are necessary (specifically excluding design changes, which are always charged for) free of charge.
In this stage, the texturing process is done, which is usually the last step before mass production.
Mass Production Run or Export 
In this stage, the tool is handed over to the customer or ready for injection molding.
You have likely heard negatively about the quality of plastic injection molding companies in China.
However, the outsourcing injection molding within China has grown consistently. Many companies worldwide continue to purchase China injection molding services; some are placing large orders, and some even set up their own sourcing office in China.
People prefer advanced injection molds and durable injection parts. The Chinese suppliers are reliable business partners in the injection industry.
WHAT OUR CUSTOMERS SAY
"I'm glad to inform you that all plastic parts are perfect!!! We are delighted, and therefore there are good chances to continue our relationship for any coming new project."
"Steven is an excellent professional with great knowledge and technical practice."
"Steven is a very detail-oriented project manager and engineer who can solve problems creatively and also provides excellent service. It was a pleasure working with him."
China injection molding pros:
Price
A lot of plastic injection molding companies in China produce high-quality molds and moulded parts like companies in the United States and Europe, but at substantially lower pricing, typically 30-60% lower than US mold makers.
Quality
Some China injection molding is arguably among the very best in the plastic injection molding industry. many companies in China have extensive experience in plastic injection molding and can provide you with extensive knowledge and experience in this area.
Flexible work
Lots of plastic injection molding companies in China are capable of providing a wide range of injection molding. Besides making injection molds, those makers also provide a manufacturing service. Those Chinese companies could provide small-scale experimentation and high-volume mass injection production.
Fast Delivery
China injection molding lead times are shorter. Normally, it takes 3-8 weeks, depending on the tool size and complexity. The manufacturers can ensure that their molds are processed 24 hours per day, seven days per week, through adequate worker arrangements.
The main China injection molding market region is characterized by a complex supply chain system comprising raw material procurement, manufacturing, logistics, and distribution.
Services
Some plastic injection molding and plastic mold companies in China can provide you with the top injection parts and tooling services whenever you want. The Chinese manufacturers will work with you to meet your needs.
Many China suppliers are responsible and responsive to every customer. Local China mold makers play a significant part in helping companies overseas to meet their budget and delivery needs.
It is possible to divert your money to grow your business while maintaining high-quality China plastic injection molding and process standards.
How to choose China plastic mold and injection molding?
The process of selecting reliable plastic mold and injection molding companies in China can be confusing, as there are so many manufacturers in China, and they are all competing to win clientele. Different China injection molding makers provide various services.
What is the best way to choose a reliable, efficient maker in China? Will those China plastic companies deliver as promised? How about the delivery time, quality, and intellectual property rights? You can find answers to these questions through the following items:
With the quotation sheet, you should verify the specifications of the steel insert used for the cavity and the core, the mold life, the number of cavities, the gate, the surface finish, the lead time for T1, the price, the delivery, and the payment.
If you are interested in getting a China service, you might want to ask the manufacturers for the DFM report before placing an order. This report will give you more information about those manufacturers. General information concerning properties, such as steel, shrinkage, feed system, and gate. And if a China manufacturer's service fits your specifications, you can see how to optimize your part design.
Review the quality system of the maker.This is very important because you want to ensure that the manufacturer has a quality system in place. The system should be based on ISO 9001:2015 standards or equivalent. You can also check the certificates of China manufacturers, such as SGS, BV, and UL certifications.
Request references from past customers.This is another step to ensure that the manufacturer has a good reputation. You should be able to find references from past customers on their website and contact them for more information about the service. Review the capabilities of China manufacturers. You will want to know if they can make your part or not.
Once the DFM and PO are confirmed, injection molders in China will start the design. You may ask those makers to send you the MoldFlow analysis based on the mold design to check the flowability, warpages, etc.
After confirming the design, contact your injection molding manufacturer to send you the tooling plan every week. You can also request the steel quality and hardness certificate from your manufacturer to check the steel quality and hardness.
After the test, you will need to obtain the test video, the injection molding trial report, and the sample inspection report from the China maker.
Please ask your China plastic injection molding supplier to send you the electrode and spare parts drawings and every other technical document before delivery.
FAQs about how to contract maufacture injection molding from China
1. What should you look for when contracting maufacture injection molding from a supplier in China?
When contracting maufacture injection molding from a supplier in China, it is important to consider factors such as the quality of the product and service, experience and skill level of your potential suppliers, and their ability to meet your budget requirements. Additionally, it's essential to assess how well your chosen manufacturer can adapt to changing market conditions and offer custom solutions that meet your unique needs.
2. How can you ensure that the injection molded parts made by Chinese manufacturers will be up to standard quality?
There are several things you can do to ensure that the injection molded parts made by Chinese manufacturers are high quality. Some of these include researching the supplier's reputation and experience in the industry, checking their certifications and licenses to ensure they are reputable, and contacting previous customers to ask about their experiences with the manufacturer. Additionally, it is always a good idea to inspect injection molded parts made by potential suppliers before making any final decisions.
3. How can you negotiate more favorable prices with Chinese manufacturers when ordering injection molded parts?
There are several different factors that can influence pricing when contracting maufacture injection molding from a Chinese manufacturer. These factors may include:
volume discounts
the size or complexity of your order, and
whether or not you require custom product design services
or additional finishing work performed on your components after manufacturing.
To get better pricing for your injection molded parts, it is important to be prepared and know exactly what you need from your manufacturer in advance.
4. How can you work with a Chinese manufacturer to create custom injection molded parts that meet your unique specifications?
To create custom injection molded products that meet your unique specifications, it is important to work closely with a knowledgeable supplier who has experience producing customized components. In order to ensure maximum compatibility between the design of your injection molds and the manufacturing processes used by your potential suppliers, it may also be helpful to provide detailed technical drawings or 3D models of your desired product design. Additionally, establishing clear communication channels and asking for regular updates on your order status will help keep everything running smoothly throughout the manufacturing process.
5. How do you know when it's time to move on from your current injection molded parts supplier and find a new manufacturer?
There are several different signs that may indicate that it is time to seek out a new injection molded parts supplier. These may include:
a decline in the quality of your components,
missed deadlines or delays in receiving finished products,
problems with communication or responsiveness from your manufacturer,
or increased pricing for your orders.
If you notice any of these issues with your current vendor, it can be helpful to start looking for alternative suppliers who meet your needs and budget requirements.
6. What are the benefits of contracting maufacture injection molding from a Chinese manufacturer, compared to other countries?
In many cases, contracting maufacture injection molding from a Chinese manufacturer can be beneficial in several ways. Some of these advantages may include lower costs for production due to cheaper labor and materials costs, access to a wide range of manufacturing processes and technologies depending on your needs, and more flexible production schedules that allow you to adjust orders based on market demand or changing requirements.
Additionally, working with a Chinese supplier may also give you the opportunity to take advantage of additional services such as product design consulting or prototype development. Regardless of your specific needs when ordering custom injection molded parts, there is likely a qualified manufacturer in China with the capabilities to meet your requirements.
7. In what industries is contracting manufacture injection molding from a Chinese manufacturer commonly used?
There are many different industries that may use injection molded components, and it is difficult to make generalizations about which ones are more likely than others to work with Chinese suppliers. However, some of the most common applications for injection molded products include:
automotive manufacturing,
electronics assembly,
medical device production,
sporting goods and toys,
telecommunications equipment,
plumbing fixtures and hardware installation.
No matter what type of product you need custom-made using injection molding processes, there is likely a qualified manufacturer in China who can help you find the best solution for your needs at an affordable price point.
Where to find plastic injection molding companies in China?
If you're looking for a China injection molding supplier, there are several ways to find them. Some of the most common methods include searching online with Google or Alibaba, visiting trade shows and exhibitions, and networking with other manufacturers.
It is relatively simple to locate a manufacturer of injection molds in China on google
You can search using the terms below: China plastic injection mold, China injection mold manufacturers, Chinese injection molding, Chinese mold manufacturers, etc.
China mold makers can be found on various social networking sites, such as Linkedin, Facebook, and Twitter.
The B2B websites Alibaba, Made-IN-China, Global sources, and others allow you to find China injection mold suppliers and manufacturers.
If you don't find anything that way, then you may want to consider visiting trade shows and exhibitions where manufacturers tend to gather together. This includes places like the China International Plastics fair in Shanghai every June or Chinaplas which is held every November in Guangzhou ,Canton Fair or Aisamold for injection mold service China.
Another option would be networking with other manufacturers who might have already worked with injection molding suppliers in China before.
They could give you some recommendations on who would offer affordable prices with good quality products as well as services such as shipping overseas which could cost much more than just paying for shipping within China itself.
In fact, you can find at least twenty of the organizations in the specialized industrial parts of Dongguan city. China at large should be considered as many distinct parts rather than a single large one.
Some areas are known for supplying the most China plastic injection molds. Currently, there is an extensive number of suppliers. If you want to buy China plastic mold, you should seek a supplier located in one of these regions.
China has become the largest plastic consumer in recent years, while at the same time, China is home to the largest injection mold manufacturer with superior service.
China Plastics manufacturers produce a large number of Plastic Injection Molds, thereby creating a large market for acquiring these molds. As China mold factories grow increasingly sophisticated, so suppliers also develop.
At present, the injection mold industry of China has its own distinct characteristics, dominated by the plastic molds produced in Zhejiang, Jiangsu, and Guangdong, which account for 70% of the national total output value, giving them a very competitive advantage.
China's leader—Guangdong
Guangdong is the most important market for mold products in China and is the largest exporter and importer of molds in the country.
Among China Plastic Molds producers, Guangdong represents more than 40% of the value, especially Shenzhen is leading the domestic market because of its numerical control rate of mold processing technology, manufacturing, professionalism, and standardization.
Due to the further optimization of the structure of Guangdong's industry, the development of petrochemical, automotive, high-tech, and many other industries, Guangdong has become the world's largest mold base supplier and Asia's largest manufacturer.
Guangdong's mold manufacturing in the coming years will become progressively advanced and complex, providing a better China injection mold service.
Shanghai—The automotive and information industry dominated
According to the Shanghai Mold Industry, there are six major industries and key industries.
It has developed a quality magnesium alloy die casting mold, and a precision injection mold in the IT industry, especially information technology, automotive production, and computer equipment; large die casting molds are used in the automotive industry, and progressive dies are used for precision stamping of precision parts.
Zhejiang – the most ratio of plastic mold
Ninghai is the main plastic mold manufacturer in Ningbo, Beilun manufactures die-casting tools, Xiangshan casts stamps, and Yinzhou manufactures casting and stamping tools.
The plastic molds are the majority of Taizhou's mold manufacturing enterprises, centred in Huangyan and Luqiao.
Jiangsu—Private operation and foreign investment
Mould enterprises in Jiangsu Province have increased the investment in manufacturing equipment: CNC machine tools are widely used, and machining centers are widely used. Most enterprises have CMM, while WEDM machines are mainly wire cut machines. EDM mostly uses high-precision fixtures with high efficiency. Precision grinding machines such as ultra-precision surface grinders, optical curve grinders, and five-axis coordinate grinders have been widely used in precision mould manufacturing enterprises.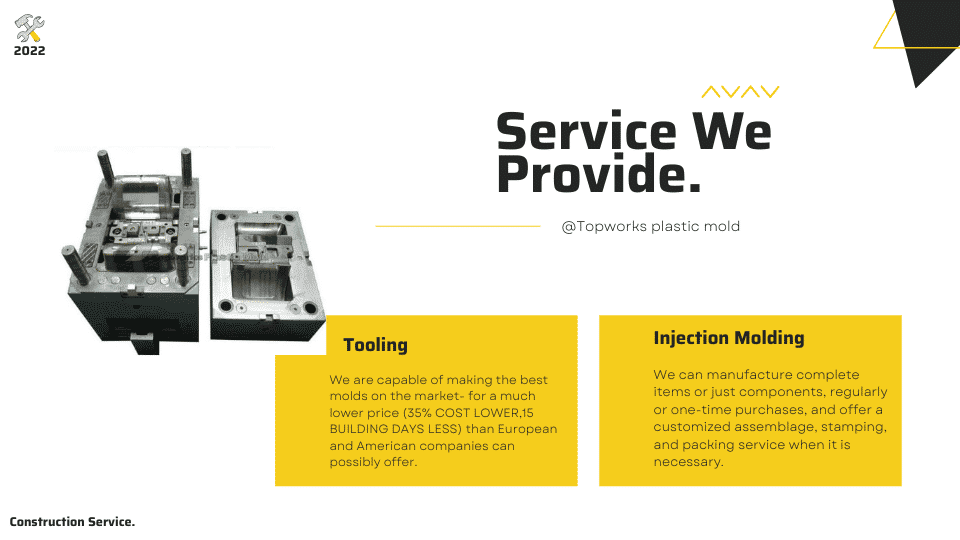 6 tips for buying China injection molding cost-effective
Manufacturers are constantly on the lookout for ways to save money on the parts that are being manufactured. It is rare for a novice company or leader to take everything at face value and expect everything to work perfectly in this industry.
Even though it may seem as if everything in the manufacturing industry is set in stone as far as how profits are made, and how injection molded products are manufactured, some tricks of the trade can be applied to your injection molding business from China. Check out these six injection molding cost-saving tips.
Multi-Cavity Mold
Designing a multi-cavity mold or a family mold can also reduce tooling costs. You may be able to accommodate more than one part in your mold depending on the part similarity, material selection, and processing requirements. Consequently, the tool price will increase, but it will be marginal compared to the expense of cutting a separate tool for each part.
As a result, multi-cavity molding is ideally suited for high plastic production requirements. There is an inverse relationship between the number of cavities in a tool and the number of parts you can produce in each cycle. As this process will result in higher initial costs related to tooling, the long-term result will be a reduction in part prices and overall costs for the company as a whole.
Processes like injection molding are challenging to reduce costs because they are straightforward. On the other hand, professionals say it is possible to reduce costs in many ways.
Be aware of the part size.
To achieve your goal as cheaply as possible, as little material should be used as possible. The cost of an unnecessarily large or complex part will be higher and the cycle time since it takes more time to process and cool. Though a higher strength often characterizes plastics due to requiring more material. Increasing the amount of material used can be avoided to maintain structural integrity.
Insert components
With a bit of planning, you can reuse the same mold multiple times instead of buying a new one for every revision. For example, you can use inserts to create various versions for the tool. Another modification method, known as MUD tooling, creates a small mold encapsulated by the existing mold base. In addition to saving costs, this small mold requires less investment in the tooling. Multiple tools are much more costly than cutting this mold.
Don't overdo makeup and accessories
Even though you should not be conservative about the features and cosmetics you add, you should not overdo it. There is no doubt that it is good to have a very aesthetically pleasing part. However, the extra effort required in creating the mold which will be used can sometimes take a huge bite out of your profit margins.
To achieve the cosmetic appearance they desire, a customer who wishes to add additional features to their product might require extra mold work, such as electrode removal, sandblasting, or high polishing. Cost savings efforts may be adversely affected by this extra work.
It is possible to cut injection molding costs if a minor feature, such as company logos or textured surfaces, is unnecessary.
Analyzing the manufacturing process
Even if you can identify potential improvement opportunities in a DFM analysis, working with an experienced partner can save you time and money in the long run. Through its early identification of problems, such as impossible geometries, low draft angles, and moldable components, it will reduce financial and cosmetic expenditures. Topworks plastic mold, for instance, offers expertise and knowledge that assist in improving and perfecting injection molds.
Innovative Mold Design
It is cheaper to work with a molder that will design your molds intelligently. Depending on where your part is positioned in the mold, the cost will be affected significantly. Optimal filling and reduced scrap are the results of part positioning. A part may be designed to eliminate the need for sprues and runners to reduce material usage. Ultimately, this reduces the cost of the part. You can eject your parts damage-free with a smart design.
Using the six tips in this article will help you maximize your injection molding profits from China. It would be beneficial to put all – or even some – of these into practice to reduce costs.
Why those important for injection molding cost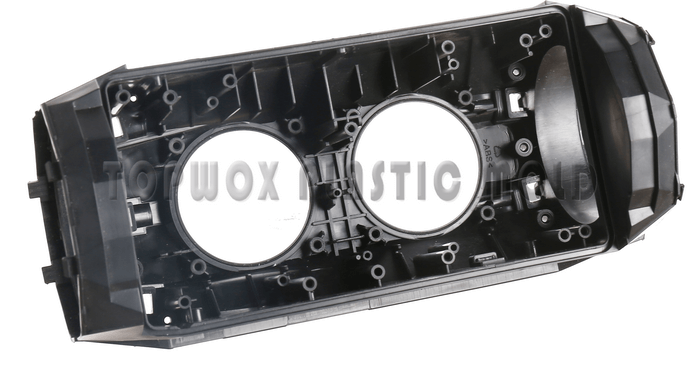 Part size- bigger parts mean a bigger mold, which means that bigger steel will increase the steel cost for the injection mold.
Part design- the more complex a part is, the more detailed the mold has to be. Some complicated parts will require special features to be added, such as lifters or sliders. Therefore, you should be open to advice from your mold maker and see if there's anywhere that you can alter the part design to save on injection mold costs.
Materials: Depending on the part material of choice, the injection mold will have to be made of a particular material. For instance, if corrosive plastic-like PVC is to be used, the mold will have to be stainless steel to avoid any damage, ultimately bump the price up.
Part finish requirements- where parts have high gloss surface requirements, then more expensive steel and precise technical polishing will be vital, adding to the price.
Production volume- higher volume molds need more cavities, and so the mold will be larger. They also require a higher steel grade to last for longer, which impacts the injection mold cost.
Country of manufacture- different countries have different wage rates. If your mold is made in a country where labor costs are low, then you'll naturally save money. In China, the average cost of an injection mold is around 40% less than in western nations.