Tooling costs are extremely hard to estimate because of the variety of designs and steel types available. Tools can range from a thousand dollars to many hundreds of thousands of dollars depending on these factors, as well as the size of the part being molded and how many cavities are being molded at one time (called cavitation).
Tooling cost
Today, moldmakers are charging in the area of $55 per man-hour to build molds. The average time for building a mold is around 1,000 hours.
So, an average mold will cost around $55,000 to build, not including cost of steel (another $5,000). While these may represent average costs, it is not wise to depend on them for a specific project because of the many variables already listed.
Most moldmakers will be happy to give a "ballpark" figure that can be used for budgetary purposes, without the potential customer running the legal risk of asking for a formal quote but never intending to release a purchase order at that time.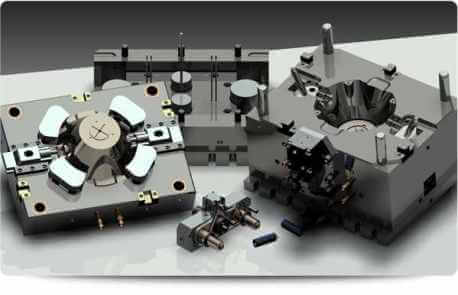 Tooling costs may or may not be included in the manufacturing cost estimates. They may be paid for by a special fund dedicated to total tooling costs for a specific plant site.
Regardless of how the tooling is funded, there is a definite cost associated with building molds and secondary tools for a specific product design.
Standard Practice
In most cases, tooling (mold) charges are not amortized over a specific volume. This is because volumes never stay fixed and are continuously changing as market influences change.
To keep from having to constantly adjust manufacturing costs based on these changes, molders normally treat the cost of tooling as a separate issue.
Usually the billing practice for tooling costs requires that the customer pay a third of the cost as a down payment to the moldmaker, a third upon delivery of the mold to the molder, and the final third within 30 days of tool acceptance by the customer.
This practice keeps the moldmaker from being burdened with funding the initial building of the mold and risking loss of capital, which can run into hundreds of thousands of dollars.
The toolmaker (moldmaker) is responsible for building a mold that is capable of producing a specific product to print.
There are many variations to this procedure, however, and it makes good sense to determine ahead of time just what the moldmaker is responsible for and what constitutes an "acceptable" mold.
For instance, if the customer dictates the amount of shrinkage to be used in calculating mold dimensions, the moldmaker cannot be held responsible if the molded part dimensions are incorrect.
Amortizing Tool Costs
If tooling costs must be amortized, for whatever reason, it is usually done so over the first year's production run, which has been negotiated and guaranteed by the customer.
That way, even if the parts are never produced, the molder and moldmaker are paid for their involvement. This practice results in unusually high costs for the first year's molded parts, with each part absorbing a portion of the total tooling costs.
If the run is only a few hundred pieces, each piece may become so costly it cannot be sold. This is the primary concern regarding the amortization of tool costs.
Maintenance Costs
Whether tooling costs are amortized, or paid for up front, there is a need to address everyday maintenance charges for upkeep of the mold. As a rule, this will result in an annual charge that is equal to approximately 8% of the original tool cost.
For example, if a mold costs $50,000 to build, we can assume that we will spend approximately $4,000 every year to maintain that mold.
This money is used for such things as waterline hoses, ejector pins, lubricant, damage repair, and other items required to keep the mold running in top condition.
This money can be included in standard overhead charges, added to the original cost of the mold, or billed for as the items are activated. If the volume of production is great enough, the charges can be added to the piece price (amortized) and absorbed by the molder as required.