Plastic Parts
The form in which plastics materials should be specified is largely determined by the nature of the material. Plastics resins are either thermoplastic or thermosetting in nature. Thermoplastic resins soften and flow when heated and harden when cooled. For moldings, the polymer is usually supplied in granular form. After being heated to the fluid state it is charged to the mold or die, where it cools and hardens.
Thermosetting plastics do not soften when heated, but gradually lose properties &s temperature increases, until they char and disintegrate. For moldings, thermosetting resins are usually supplied in a partially polymerized granular form, usually with some type of fibrous reinforcement. They flow to a limited degree on initial heating, but as heating continues they polymerize completely and cure to a hard infusible state.
Molded Part
Injection molded parts. The injection molding process for plastics is similar in nature to the die casting process for metals. A thermoplastic molding compound is heated to plasticity in a cylinder at a controlled temperature and forced under a pressure of 10,000 to 50,000 psi through sprue, runners and gates into a cool single or multiple cavity mold. The resin solidifies rapidly, the mold is opened, and the part or parts ejected.
The primary advantage of the process, as is the case with die castings, is the relatively low cost per part. Multiple cavity molds can often be used. The cycle is rapid, since parts can be removed from the mold as soon as they solidify sufficiently.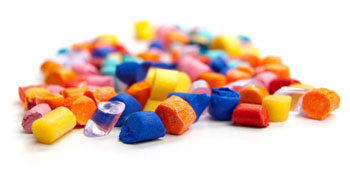 In some cases modifications of the injection molding process can be used to mold small parts of thermosetting resins. These processes are called jet, flow or offset injection molding. They make use of the fluid state of thermosetting molding materials before complete polymerization. The process is suitable only for relatively small parts, and is one that requires careful control of processing variables, such as temperature.
Compression molded parts. Compression molding is primarily used to mold thermosetting plastics, though in some instances it can be used economically to mold thermoplastics, e. g., and vinyl phonograph records. Thermoplastic materials cannot usually be performed, but are charged as powder or granules.
In compression molding, a partially polymerized thermosetting resin, usually in the form of a preform made from powder or granules, is placed in the heated mold cavity. The mold is closed, heat and pressure are applied, and the material flows and fills the mold cavity. The heat then fully polymerizes the material before the mold is opened and the part removed.
In the case of thermoplastic materials, heating softens the polymer, which flows and fills the mold. Then the mold is cooled and the part solidifies.
Less material is required for compression molding than for injection or transfer molding, since the material is placed directly in the mold, and no sprues, runners or gates are required. With thermosetting resins, the cycle is longer than m injection molding, since the part must be cured in the mold.
Cold molded parts
Cold molding is similar to compression molding in that it makes use of a split, or open, mold in which the material is charged. It differs from compression molding in that it uses no heat—only pressure on the order of 2000 to 12,000 psi. After the part is removed from the mold it is placed in an oven to cure to its final state.
Materials used for cold molding are classified as nonrefractory (organic) and refractory (inorganic) .Organic types consist of binders -such as asphalts, oil derivatives and residues, and gum or resin solutions -and fillers, such as asbestos fibers and silica and magnesia compounds. Inorganic types consist of binders — such as cement, lime or silica -and fillers, such as asbestos.
Cold molded parts are primarily used for electrical components. The materials have excellent electrical insulating properties, as well as resistance to moisture and heat.
Transfer molded parts
Transfer molding of thermosetting materials is roughly analogous to injection molding of thermoplastics. The thermosetting molding compound is heated to plasticity in a transfer chamber, and is then fed to the mold cavity (or cavities) through sprue, runners and gates. After the mold is filled, heat is maintained for a predetermined period of time to fully polymerize and cure the part.
In comparison with compression molding, transfer molding is particularly advantageous where thin sections or delicate inserts are used. Since the design of runners and gates permits some control over where the material is to be fed to the mold, flow of the material can be more closely controlled than in compression molding. Also, closer tolerances can usually be held on transfer molded parts. On the other hand,transfer molds are usually more elaborate than compression molds, and there is a loss of material in the cull and sprue. Size of transfer molded parts is somewhat limited.