plastic parts-concluded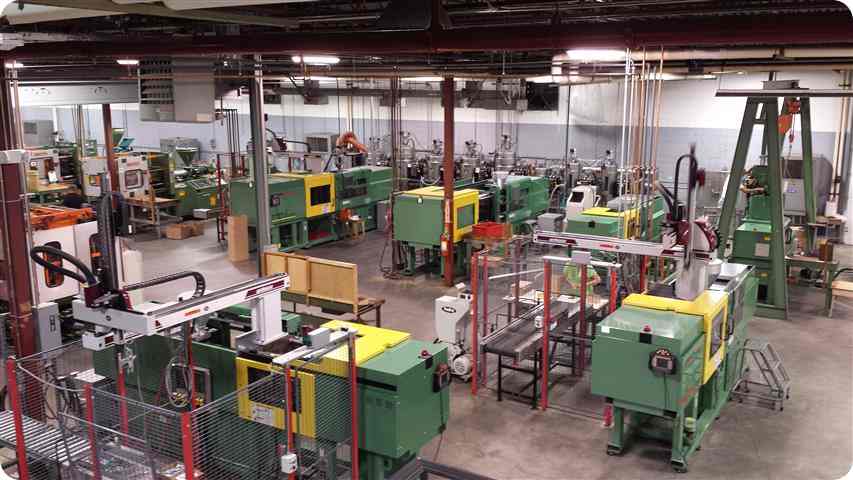 cellulose paper, asbestos paper, or fabric or mat made from cotton, glass, asbestos or nylon fibers. Vulcanized fibre has only one component—cellulose. It is made by laminating chemically gelled paper, leaching out the chemical, and calendering. The resulting laminate is tough and hornlike, and has good electrical properties. Properties of standard NEMA (National Electrical Manufacturers' Assn.) laminates are given in Section 5 of this issue.
Postforming. Certain grades of laminates can be postformed by the use of heat and pressure. Temperatures, times and pressures vary with grade of laminate, thickness of material, and design. Temperatures generally range between 350 and 480 F, heating time usually ranges from a few seconds to a few minutes at most, and pressures range from a few pounds to several hundred pounds per square inch.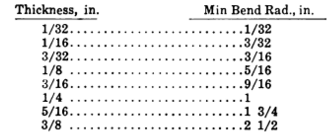 Although the following formability values should not be used for design, they do indicate general limits for postforming. Minimum radii are measured on the inside of bends, and apply to bends made lengthwise and crosswise. Smaller radii can be achieved with cloth-base laminates by orienting the sheet so that bends are made diagonally to the warp and fill directions.
Postforming grade laminates can be drawn to moderate depths. Both paper and cloth-base laminates in 1/16-in. thickness can be drawn to a depth of about l/4 in. in a 3 in. dia spherical cup.
Vulcanized fibre can be formed by the use of moisture and pressure. Water softens or plasticizes the fibre to the extent that it can be formed under relatively low pressures, usually between 200 and 500 psi. In addition to forming in matched die presses, vulcanized fibre can be formed in standard sheet metal angle brakes and in punch presses if the design is simple and only a little moisture is required.
Secondary fabrication. Machining and other secondary operations carried out on reinforced plastics are similar for both low and high pressure moldings, as well as for laminates.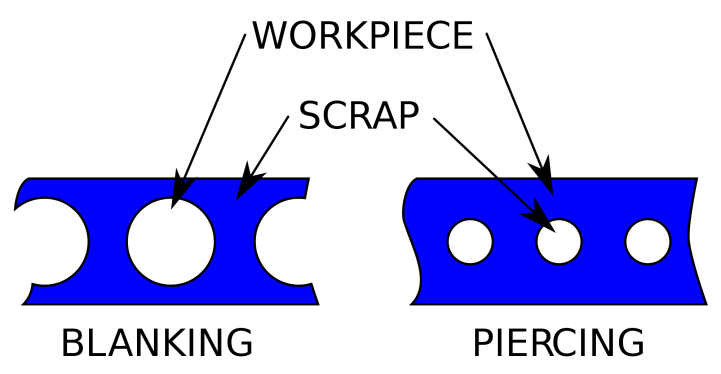 Blanking and punching-Use of a punch press with a hard, well-made blanking or punching die is the accepted production method for cutting flat stock, putting holes into side walls of moldings, and other piercing steps. Punching of reinforced plastics results in holes that are 0.002 to 0.010 in. smaller than the punch. Blanking gives parts 0.001 to 0.005 in. larger than the die. In each case, these values depend on a relation based on the thickness and the proportion of reinforcement. This "shrinkage" causes the material to seize the dies, so that a strongly loaded spring stripper mechanism is desirable. It has been estimated that a pressure of 20,000 psi (on the shear-edge area) is sufficient for blanking, punching and shearing.
Shearing-Shearing of 1/2-in. thick stock is quite feasible. For best results, the piece should have a width of at least twice the thickness of the parent stock. Shear gibs must be snug and blades sharp.
Sawing-Abrasive cutting wheels should be used whenever possible; rigid mounting of both the wheel and the work is important. A metal cutting blade, if used, should have coarse, offset, wide-spaced teeth.
Drilling-Accurately located holes on side walls are difficult to mold. Where small runs are made, and where precision is required, drilling is recommended. There is no limit to the thickness that can be drilled.
Tapping-Tapping is seldom performed, because the strength of a screw and tapped hole system is inferior to that of a nut and bolt assembly. Where light duty connecting is called for, self-tapping screws are satisfactory.
Grinding-Widely used to provide the taper in glass fiber-reinforced plastics fishing rods. Satisfactory automatic machines are in common use. Standard coolants are employed so that rapid feeds and minimized wheel loading are possible.
Routing, milling, turning-Routing is a practical production edging process and is faster and more accurate than jig-sawing where moderate numbers of irregular holes are to be cut. Milling and turning are not frequently required, but can be readily accomplished. Well-sharpened carbide or diamond-tipped tools provide good efficiency; speeds and feeds appropriate for brass are recommended.