lapping operation process
First of all, it will be necessary to ensure that all-important holes or parts of the mould due to lapping after hardening have been finished off to the smoothest possible surface finish. Roughly turned or ground bores, in which turning tool rings are plainly visible will be most difficult to lap and bring to close dimensional limits.

All holes should also be checked for absence of taper, bell-mouthing, or torn surfaces. If any of these undesirable features are present before the mould is hardened and are left uncorrected, many difficulties will be presented to the toolmaker after the part has been hardened, as will be explained more fully in a later chapter.
Next, the proper amount of lapping allowance for each hole or surface should be checked. To some extent, this will depend upon the quality of the surface finish desired,and how near this final requirement is approached by the polishing operations prior to hardening.
Another very essential point requiring attention is that all bores which have to be subsequently lapped must first be checked for alignment with matching holes or parts, and to determine that they have been bored exactly on the requisite axial line- Slight inaccuracies in drilling or boring should be corrected before the mould is hardened, and reliance should never be made upon the lapping operations for ultimate correction of a hole location error.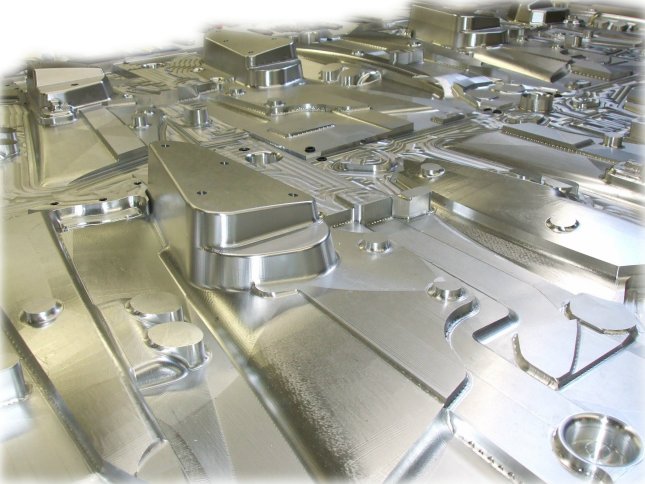 All lubrication channels necessary for oiling slides, cores, dowels and other parts of the inbuilt mechanism should be cleaned out from all lodging chips and dirt, and a test made that such channels are correctly located and do in fact feed oil to the spot required- All this should be performed and assured before sending the mould to harden.
The same holds for the water-cooling system. All water-flow channels in the mould blocks should be checked for continuity throughout the blocks Preferably these channels should be tested for leakages, as it often happens that the water-cooling holes have to pass through other holes in the block and unless these latter are subsequently plugged, leaks may occur. It is far better to conduct tests for such leakages before the parts have been hardened off since any fault can then be much more easily corrected or modifications made if desired-
Enough has been written upon the subject of hardening and the preparation of the mould for such operations, for it to be well appreciated that very considerable maintenance difficulties may, and in fact do, arise from unsatisfactory heat treatment, use of the wrong kind of materials, or lack of proper preparation of the mould before sending it to harden.
The moldmaker realizes the impracticability of giving comprehensive attention to all the many aspects and problems of heat treating o£ moulds within this present book, but he hopes sufficient has been said to indicate to the designer and mould toolmaker the general lines upon which to proceed when selecting a mould steel, and later when preparing the mould for heat treatment so that many of the after- hardening snags may be eliminated thereby securing an economy in the amount of maintenance service likely to be required when the mould is finally placed into production use.