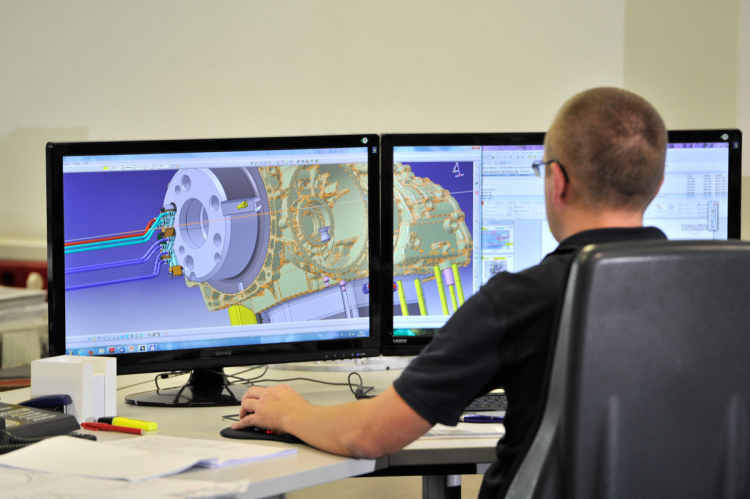 Many people assume that Chinese plastic injection molds are going to be poor quality. However, a huge number of companies- including multinational corporations- still choose to buy such molds. Does that mean these companies are naive, or making a mistake? Of course not. In fact, Chinese injection mold manufacturers are capable of making some of the best molds on the market- for a much lower price than European and American companies can possibly offer.
Across China, the plastic injection mold manufacturing industry is growing from strength to strength. Not only do they have the skills required to make superior injection molds, but they also possess excellent English skills. That extends into the marketing departments, too- most Chinese mold sellers have a strong grasp of CAD drawing, and the capability to choose the right materials. This allows them to speed up the communication process between partner engineers and the customer.
When making a brand-new plastic injection mold, the process usually starts with a 3D drawing of the product. Using that drawing, engineers can then decide how to make the mold, thinking about things like the size and structure of the mold, the material, and how to keep the cost as low as possible- all while keeping the customer's requirements in mind. Our factory has worked with multiple European and American companies for many years now, so all you need to do is send us your drawings- we'll be happy to carry out a test to show you what we have to offer.
Mold manufacturing has been around in China for over 30 years, meaning there are plenty of high-quality manufacturers operating today. Many possess the same skills and experience as their western counterparts. While they may only be paid around 60% of what they could make doing the same job in the US, they will still produce top quality molds that you can really rely on.
How should I go about choosing a Chinese injection mold supplier?
The main reason why so many US and European clients come to China for plastic injection molds is because they are much cheaper to make here. However, price shouldn't be the only thing you look at- you should also consider the following, to be sure that your chosen company is going to do a thorough job when making your mold.
References from past clients
Quality of tool steel used
Standard of their factory and equipment
Quality control and validation processes
Experience- ideally, you'll want a company that really knows what they are doing
Capability- will they be able to handle the whole project in-house, or outsource parts of it?
Current capacity
Are they able to properly serve international clients?
Plastic mould making tips
Moulds for injection moulding are as varied in design, degree of complexity and size as are the components produced from them. In their simplest form, for use on the smallest machines,they may consist of two matching pieces of metal in which the impression of the article to be moulded is cut. A channel communicates with the nozzle of the plasticizing cylinder and the assembly is clamped in the correct position for moulding by means of a simple hand vice.
In more complex forms,there will be means for ejecting the mouldings and cooling channels for controlling the temperature. There may be sliding side cores or forms,unscrewing devices for mouldings having a screw thread,and part of the mould may be kept hot to provide an extension to the nozzle so that sprue and runner systems remain fluid. Electrical heating may be installed and air is sometimes applied for ejecting the mouldings.
The traditional material for the construction of moulds is steel. Cavities and communicating channels are cut into blocks of good quality tool steel which can be hardened if necessary. Sprue bushes and guide pins and their bushes are made from very hard tool steel as are ejector pins and other ejection devices. The carrier,or bolster, of the mould is made of softer,mild steel. In fact,all the parts of the mould which do not have to withstand any frictional wear are best made from this grade of steel. Care must be taken in choosing the steel so that the grade matches the degree of finish required.
Because of the traditional use of steel,moulders have been slow to accept other materials, on the assumption that the abrasive action of the plastic passing into the mould would quickly wear away the surface polish. This is what happens with thermosetting materials and compression and transfer moulds are nearly always hardened and chromium plated.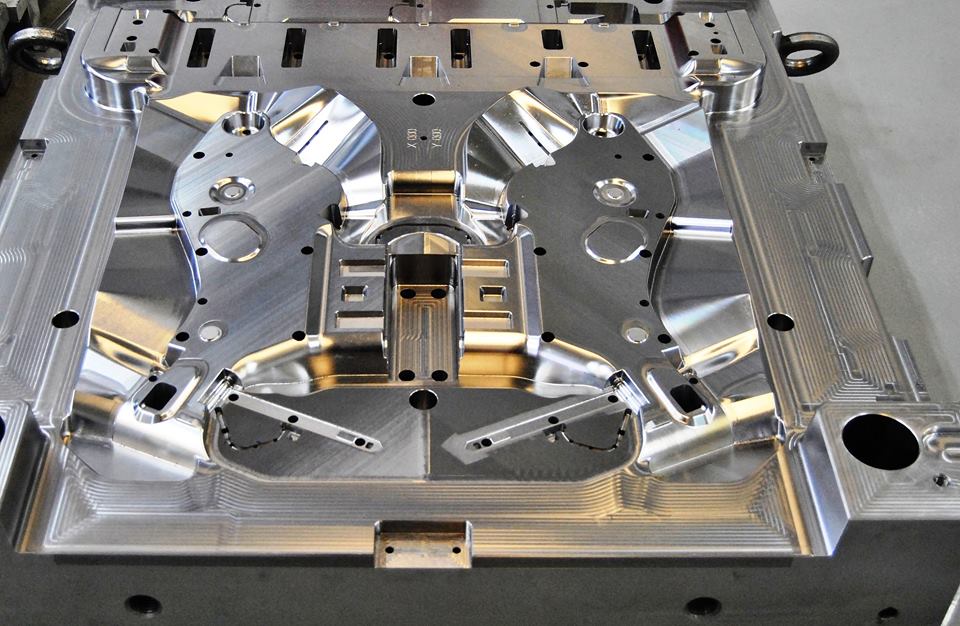 However,most thermoplastics have little abrasive action and for many components,even when runs of one million or more have been made, softer metals have been used. Among these are aluminium,brass,zinc,aluminium/zinc alloys (Kirksite) and low melting point alloys. For prototype work the last two of these materials are particularly useful because forms and cavities can easily be cast from them using plaster moulds.
Also,for prototype work,metal-filled epoxide resins (for example,Devcon) have been successfully used and it has even been found possible to make one or two injection mouldings using a mould made of dental mechanics plaster.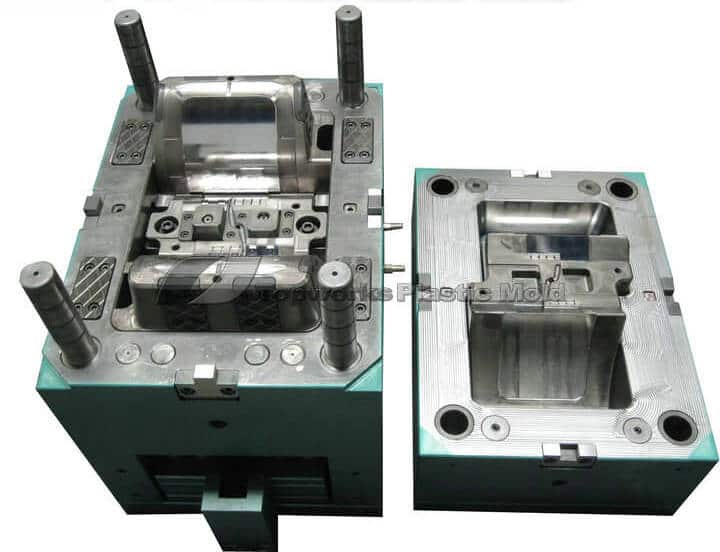 When long runs are contemplated, the best possible mould should always be considered- Such moulds will be expensive but the cost per unit item when between ten and one hundred million items are to be made will be very small. A well-made mould will require little, if any,repairs over a long period but the cost will be high on account of the processes it has to undergo during manufacture. These are: annealing cycles to prevent distortion during use; hardening processes; polishing (up to 50 per cent of the total cost of a mould), and attention to fine detail, which are all expensive.
Even before starting to make the mould a great deal of thought and the application of knowledge needs to be put into its design. It should always be remembered that is is easier and cheaper to alter a drawing than to alter a piece of machined steel. Second thoughts, so far as mould making is concerned, are not permissible when once the design has been approved and work started. Even if the design is changed, drawings should always be filed and catalogued so that they can be referred to at a later stage.
This action may prove to be of value in the event of a dispute over a modification being followed by legal action. Verbal agreement on a matter so expensive as an injection mould could prove very costly if one party later disputed the agreement.
One of the banes of the custom moulder is the customer who asks for a prototype mould to be made to produce a small number of items for market evaluation and who comes back later with the request for many thousands of the mouldings made in the same mould.
It must be understood that a prototype mould is exactly what its title implies. On some occasions a production run might be possible from such a mould but this should never be taken as a matter of course. Much can be learned from a prototype mould which probably makes the manufacture of a production mould easier and, therefore, cheaper, but this should be taken as the limit of its usefulness.
The first stage,then,in the production of an injection mould is the careful design of all the parts of the mould, consideration of whether component design has been optimized to suit injection moulding,and bringing the two concepts together in the making of the mould. This will then be proved and,if necessary,modified before handing over to the production department.