Design Considerations
The designer or engineer must be somewhat familiar with compression and transfer molding techniques in order to design parts to be produced most effectively by these methods (Bet accompanying box). With present-day molding techniques, it is possible to mold almost any shape. However, the more complicated the shape, the more expensive will be the part. The design factors discussed here are generally valid. Exceptions to most all of them can be made at appropriate costs.
Draft -Usually a minimum draft of to 1 deg should be allowed for easy removal of the part from the mold.
Draw—Draw  should not be specified any deeper than are necessary.
Fillets, radii-Curves and radius corners are far simpler and less expensive to mold than right angles and sharp edges. Sharp corners reduce the life of molds, and can cause poor flow of the molding compound. Liberal use of fillets at inside corners adds strength to the part and also helps to minimize distortion due to warp.
Bead -Beads, steps, or other discontinuities also help to prevent warpage in Urge flat surfaces and can improve the appearance of the molded art. However. Always aim for simplicity and smooth flowing line in the molded part.
Section thickness-Sections of the molded part should be kept as thin as strength requirements permit; keeping sections thin will not only minimize materials cost but also reduce cycle time because of faster heat transfer during cooling. Section thickness should also be kept as uniform as possible to provide most effective flow of resin during molding. In many cases where large areas occur, section thickness can be reduced by use of ribs to provide additional strength.
Parting line-If possible, design the part so that the mold parting: line occurs in one plane . Irregular parting lines cause additional tool expense and added production problems. Also, locate the mold parting line where it will not be readily noticed and where flash can easily be removed after the molding operation. In specifying the part to the molder be sure to stipulate areas where tolerances will not permit location of parting lines or ejector pin marks.
Undercuts-When possible, avoid undercuts that require a split-cavity mold. Such molds reduce speed of production and increase tooling costs considerably. Intricate details, such as lettering, should be located on surfaces parallel to the mold parting line. In designing such lettering, curves and radiused corners should be specified.
Boss-Projecting boss in the molded part should not be located near comers or edges, since this necessitates a comparatively weak section of steel in the mold .
Holes-Wherever possible holes should be at right angles to the surface of the part . Oblique holes add considerably to cost. In some cases, they may be more economically drilled after molding. Also, holes should be round where possible, since irregular shaped holes arc difficult and costly to reproduce in the tooling.
Long, cored holes, especially at the side of the piece, should be avoided. Where essential, ample support should be provided for the pin which forms the hole.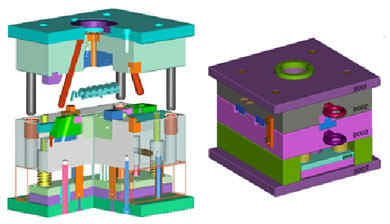 Rules regarding ratio of depth to diameter cannot be aid down definitely, since the actual ratio possible on a particular hole depends on the design of the part and the capabilities of the molder. As a general rule, however, when designing through-holes the ratio of length to diameter should be no more than four if the part is to be compression molded; no more than eight if the part is to be transfer molded. When designing blind holes, ratio of length to diameter should be no more than two for compression molding; no more than four for transfer molding.